How Is Coronavirus Treated? The Experience of China, Italy and South Korea
The gained experience in assisting critically ill patients infected with the new coronavirus is extremely important. Today we will speak about the updates on the spread of the Chinese coronavirus.
Precaution: We are not medical experts and this material should never be used as an instruction. However, it can be useful for those medical workers who want to study in detail the experience of their colleagues who have already faced this threat.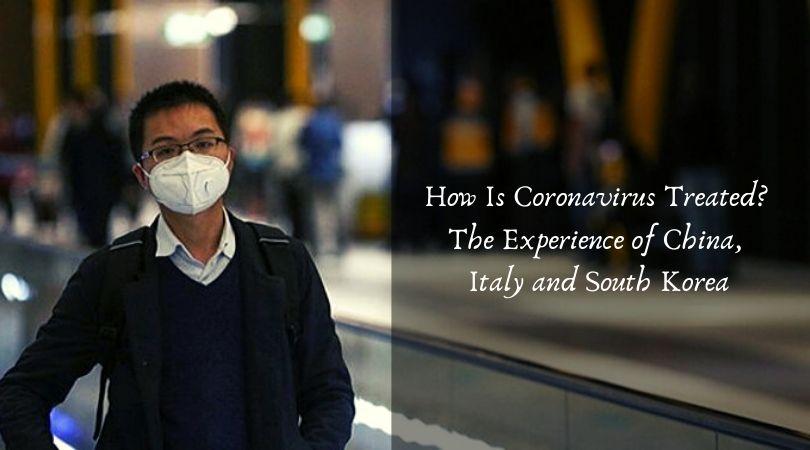 This material will be interesting for the general public as it helps better understand the course of the disease and possible forms of treatment.
First and foremost, there is no cure for coronavirus (COVID-19) today and experts estimate that it is unlikely to appear in the coming months. So, in this article we will talk about the treatment of severe consequences (symptoms) – like SARS – in patients infected with a new coronavirus. In other words, here you can read how doctors in different countries are trying to save the lives of patients with the most serious course of the disease.
Basic Definitions
COVID-19 is the name of the pandemic that is unfolding now in the world. It is caused by a new type of coronavirus, first detected in patients from the Chinese city of Wuhan;
SARS-CoV2-2019 is the official name of this virus that causes COVID-19. SARS is Severe Acute Respiratory Syndrome;
Cytokines are signaling molecules that are created by the body's immune cells. One of their functions is to signal the immune system about the presence and location of the infection;
Cytokine storm syndrome is a scenario when the patient's own immune system responds too actively to the virus (pathogen), a kind of chain reaction occurs with the release of a large number of cytokines and super-activation of immune cells, which can lead to fatal simultaneous failure of several organs (the immune system during an attack on the virus can damage healthy organs – for example, the patient's lungs);
CFR (Case Fatality Rate) is the percentage of deaths from the number of cases.
COVID-19: Reducing the Dangerious Effects
Under any treatment scenarios, it is necessary to create intensive therapy, including oxygen supply, and, if necessary, artificial lung ventilation for severe patients.
Further, according to one of the working hypotheses, the main danger for severe patients with COVID-19 is not the virus itself but the cytokine storm that it causes. According to preliminary studies, a blood test can determine in time that such a storm has begun.
To reduce the effects of the cytokine storm in severe infections, they try to use Aralen (chloroquine), which can also suppress coronavirus, at least experiments say so.
The work of another group of Chinese scientists also determined the effectiveness of a combination of remdesivir and chloroquine in the fight against the new coronavirus SARS-CoV2-2019. Remdesivir is a yet unapproved Gilead drug that was once planned to be used against the Ebola virus (human trials are currently underway in Wuhan).
Successful Experience of South Korea and China
In this thread, there are several references to the successful experience of South Korea and China in reducing mortality among severe patients with a combination of Aralen and zinc, as well as the article on the effectiveness of Aralen (chloroquine) against coronavirus.
Researchers at the famous Johns Hopkins University warn in their manual on the new coronavirus that on March 14, 2020 there are no drugs with proven efficacy in humans. As priority future areas of testing, they write about the remdesivir already mentioned above – it is considered the most encouraging drug, and Aralen (chloroquine). (The list also contains a number of other antiviral agents, for example, lopinavir / ritonavir, which is used to treat AIDS patients).
Similar tips can be found in the recommendations that Italian doctors created: oxygen therapy and lopinavir / ritonavir + chloroquine or hydroxychloroquine are used for the course of a moderate illness.
For severe patients with labored breathing due to intense pneumonia, the acute respiratory distress syndrome (ARDS), or with symptoms of global respiratory failure, acute heart failure, multiple organ failure – in addition to intensive care, Italians recommend a course of remdesivir + chloroquine / hydroxychloroquine.
The Most Important Lessons from Chinese Medical Experts
Chinese specialists have the greatest experience in treating COVID-19 today. Now they can provide the most thorough guide for diagnosing and determining the course of treatment.
So, as an "antiviral treatment", they use interferon-alpha, lopinavir / ritonavir, ribavirin + lopinavir / ritonavir and chloroquine phosphate (also known as Aralen).
French Health Minister Olivier Veran also warns against using ibuprofen and related products if there is suspicion of a new coronavirus. These drugs can potentially worsen the condition of patients. Instead, he recommends using paracetamol.
Who's Most at Risk From Coronavirus?
A few words about the most-at-risk groups due to the action of the new coronavirus. According to an analysis conducted on the basis of data on 44672 thousand confirmed patients in China, 1023 of whom died (CFR = 2.3%), the authors identified such additional factors that worsen the course of COVID-19:
Cardiovascular disease (CFR =10.5%);
Diabetes (CFR = 7.3%);
Chronic respiratory diseases (CFR = 6.3%);
High blood pressure (CFR = 6.0%);
Oncological diseases (CFR = 5.6%).
Even if you do not belong to these groups, remember them and do everything possible so that your behavior does not lead to infection of other people.
In conclusion, we recall once again that today there is no prophylaxis against the virus, just as there is no special treatment for COVID-19. The treatment mentioned above is a treatment for symptoms.